Note: This is part of an ongoing series, Charting a Way Forward for USA Team Handball (2019 Reboot): Link
Previous installments in this series have focused on our national teams. This installment takes a closer look at U.S. clubs and how they are different from typical clubs in Europe.
Clubs: The Key National Team Building Block in "Almost" every Nation
Perhaps for European readers this title is self-explanatory, except for the curious notion of italicizing and putting the word, "almost" in quotes. As in, "What do you mean? How on Earth could you have a National Team without clubs underneath developing players?"
Well, I won't regurgitate the history of U.S. national teams for the last 40 or so years, but for the most part our national teams have been comprised of athletes that have transitioned from other sports. Many of these athletes never even played handball before they joined a National Team Residency Program. Some, had only a brief stint with a club before they made the transition. And, then only a handful have started as a youth and done the bulk of their initial handball development as a club participant before eventually being identified for the national team.
Of course, this has changed recently with the greater use of expat Americans on U.S. National Teams. Yes, the U.S. is now actually using the European Model more, but only because many athletes are dual citizens who have lived most of their lives in Europe.
U.S. Clubs: A Level of Play Substantially Lower than other Handball Nations
Comparing the level of club play in the U.S. to clubs in Europe can be complicated and it depends greatly on your reference point. My point of reference is the one season (2002-03) that I played handball recreationally in France as a member of Levallois Sport Club, a suburb of Paris. It was the 2nd level of play in the Ile de France region. We practiced once a week and played one match every weekend. For reference, there are five levels of play at the national level in France. (LNH, Pro Ligue, NM1, NM3, NM3) and I was playing two levels below that, so in a sense I was playing in the… 7th Division.
And, here's the eye opener that's shaped virtually every commentary I've written for the past 12 years.
The team I played for finished middle of the table in our pool and I would assess that if I could transport that very same team to our most recent U.S. National Championships we would beat every team except for Cal Heat, NYC and NYAC and LATHC. Yes, a middle of the road 7th division team in France would have been the 5th best team at the U.S. Elite National Championships. Which then led to the following conclusion. Sorry, if it sounds overly negative, but that conclusion is… "What the hell are we thinking?"
Of course, this conclusion is way overly simplistic. There's a lot of nuance and complications with our existing structures that resulted in our "thinking" over the years. Still…
U.S. Handball Clubs: A Grouping of Handball People that is Familiar, but Different
So, was the little club that I played for in France radically different? Answer: Yes and No. The practices were very similar to the ones that I with the Condors in the late 80s; actually similar to practices I had with the U.S. National team. Handball is handball. Pretty much like basketball is basketball. It's just that the level of play and intensity is different.
The camaraderie of the teams were also very similar. Teammates became friends through the shared experiences of success and failure. There's a special bonding with sports teams and that's pretty universal.
But, that's pretty much where the similarities end. I've already described the comparative level of play. And, while the 7th Division in France is comparable to our open club championships one only has to go up a couple of levels to find better teams. Also, significantly different is the citizenship of the teams. I'm sure there were a handful of expats in our little suburban Paris league, but there weren't any teams that were 90% expat. And, here's an anecdote for you: After one season I decided that my tired 38 year old body wasn't equipped any more for handball, so I played over 35 basketball for 4 years. In those 4 years as my club climbed up from the 3rd Division to the 1st Division I played around 100 games against dozens of clubs. And, in all that time I played "America's game" exactly once against a fellow American.
Several things of note there: Very few expats, dozens of teams and I think the longest trip I ever took was around 45 minutes to a suburb on the other side of Paris. And, this was just for the over 35 team. Most clubs had multiple teams from 10 years on up. Some like my club even had a professional side sharing the very same gym for practices. It's not hard to see how these clubs are the primary building block for developing sporting talent in Europe and much of the rest of the world.
Now, to state the obvious: There are no handball clubs like this in the U.S. Heck, I don't know of any club for any sport in the U.S. that fits this profile.
Understanding U.S. Handball Clubs
So, what exactly are handball clubs in the U.S. then? Well, to start there are two primary types of clubs: At-Large Clubs (open to anyone) and Collegiate Clubs (where members are also students at the same college).
At-Large Club Demographics
Here's the snapshots of the clubs that I presented in part 1: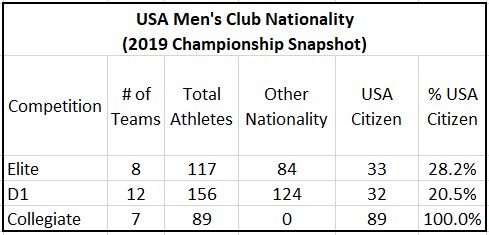 As you can see our national championship participants were mostly from other countries and a bit on the older side. With the aid of Bryan Cothorn's excellent database here is even broader overview of all the At-Large Clubs that played at least one match last season (2018-19).
Some notes on this compilation
Last season the U.S. had 21 At Large Clubs that played at least 1 match. Eight of these 21 clubs fielded more than one team for a total of 30 teams that played at least 1 match.
The clubs are split into three main groupings:

13 clubs where the majority of the roster consists of athletes who first learned to play handball outside the U.S.

4 clubs where the majority of the athletes are stateside products and where a majority of the athletes live in one location

4 clubs where the majority of the athletes are stateside products, but a majority of the athletes are geographically dispersed.
The purpose of this grouping is not to be "divisive", but to provide insight as to "what we have" in terms of at large clubs. Any club we have in the U.S. is an asset that contributes to the growth of the sport in the U.S.
The total number of matches played and whether a club played at the National Championships provides some insight as to the relative stability of the club. This is because clubs that play a lot of matches and participate at nationals are generally more established. Whereas a club that plays just a few matches might be either a new club or a club that might be having sustainment issues.
Analysis
Clubs serve many purposes and ends, but currently our At-Large Clubs have only a very limited relationship to our Men's National Team. It's true that 21 athletes in our current player pool played on At-Large Club last season, but only 2 of these athletes (Sayed Shalaby (NYC) and Greg Inahara (Chicago)) made our 2019 PANAM Games Team.
The training environment for these clubs varies dramatically. At one end of the scale is NYC which is a large club with several experienced players. I would suspect their practices are pretty competitive. At the other end of the scale are some of the newer clubs which may even struggle to practice or scrimmage. And, then there are clubs that are geographically dispersed and may never actually practice; simply gathering together a few times a year to play in tournaments.
Our At-Large Clubs currently have only a limited role in the development of players for future national team competition. There are multiple reasons for this.

Most clubs are essentially recreational clubs consisting of players who simply love to play handball. That is their primary focus and… there is nothing wrong with that.

There is little incentive for established teams to invest the time required to find and recruit new American players with little experience.

Most clubs do not practice regularly enough to develop new talent in a timely manner. Further, they may not be equipped with the requisite coaching knowledge required.

Two clubs (The Long Island Tigers and the Team Handball Academy (THA)) in this compilation could play a greater role in developing National Team prospects. However, the THA is not fielding a team this year and it's future is in doubt.
Because our At-Large Clubs are recreational it should come as no surprise that most rosters are majority expat. There are simply more expat handball players in the U.S. who love the game and want to invest the time and energy to play the game recreationally.
The geography of the U.S. is a major handicap. Because these clubs are so spread out there is a significant amount of travel required to play matches. Some clubs pretty much have to fly for competition and virtually every other club has to drive significant distances. This adds to the level of commitment (time and money) required to play.
Our At-Large Clubs are a valuable resource for several reasons

They provide a competitive outlet for athletes that want to continue their handball careers

They provide quality competition for younger sides to play and learn from

They are the committed and more likely to be paying members of USA Team Handball, fans that will watch the sport on TV and purchase handball related merchandise.

They could, in some instances, provide the ground floor for future efforts. This could include manpower for development programs or the initial infrastructure and support base for a semi-pro club.
This overview was limited to Men's At-Large Clubs. Future installments will take a closer look at collegiate clubs and Women's clubs.