Last Thursday (April 8th) the U.S. and IHF announced that the U.S. will host the 2021 North American & Caribbean Women's Handball Championships
Dates: The IHF announcement indicates that teams will arrive on Sunday, August 22 and will depart on Saturday, August 28, leaving 5 days (23-27 August) for match competition.
Venue: The competition will be at the Centre of Eglin. This is a multi-use facility and the handball matches will be played in the 3 court field house with a handball sport court laid down across where the 3 basketball courts are normally set up. Here are some photos of the field house: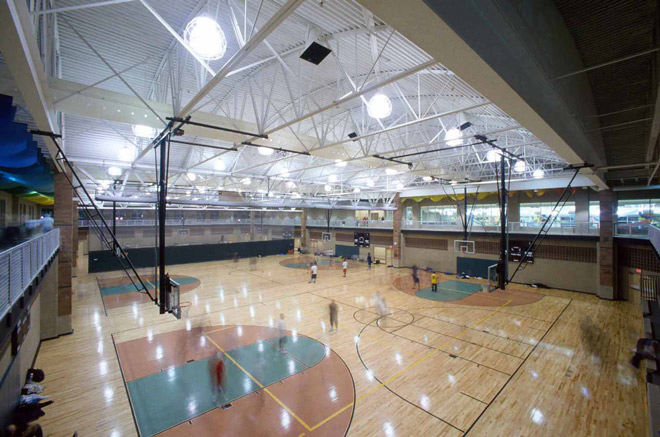 Weather: As I'm a native of Iowa (next door to Illinois) I can attest that August can be hot and muggy. We can assume that the Centre of Eglin is climate controlled, but according to the Weatherbase website the average high and low temperatures outside for August are 82 and 60 degrees, respectively. That may not sound too bad, but the saying, "It's not the heat, it's the humidity" can be a common refrain that time of year.
World Championship Qualification: The winner of the tournament will qualify for the 2021 Women's World Championships to be played in Spain this December.
Number of Teams: This is TBD, but here are the teams (and, their order of finish) that participated at the previous championships. (Source: Wikipedia)
2015 (6): Cuba, Mexico, USA, Greenland, Puerto Rico, Martinique
2017 (4): Puerto Rico, USA, Dominican Republic, Greenland
2019 (7): Cuba, Puerto Rico, Greenland, Dominican Republic, USA, Mexico, Canada
Format: Again, this is TBD, but if the same teams from 2019 were to participate there would likely be 3 days of pool play followed by 1 day of crossover (semifinals) and 1 day of finals. The schedule would be:
Monday, 23 August Pool Play
Tuesday, 24 August Pool Play
Wednesday, 25 August Pool Play
Thursday, 26 August Crossover Semifinals
Friday, 27 August Finals/Placement Matches
If fewer teams, however, participate the format could switch to a simple round robin as was used in 2015.
Seeding and Performance Rows: Again, TBD, but here are what the seeding/performance rows would be based on 2019 Results:
Row 1 (Cuba, Puerto Rico)
Row 2 (Greenland, Dominican Republic)
Row 3 (USA, Mexico)
Row 4 (Canada)
USA Group Selection: Again, a lot of speculation here, but assuming the draw process that is used for most handball tournaments applies, the U.S. as host will get to choose which group it wants for pool play. This means that rows 1, 2 and 4 will first be drawn and assigned to Groups A and B. The U.S. will then select which group it wants and then Mexico would be assigned to the other Group.
Here are the 4 possible group decisions that the U.S. would have (if the 7 teams that participated in 2019 play in 2021):
Group A (CUB, GRL, CAN); Group B (PUR, DOM, Vacant)
Group A (CUB, GRL, Vacant); Group B (PUR), DOM, CAN)
Group A (CUB, DOM, CAN); Group B (PUR, GRL, Vacant)
Group A (CUB, DOM, Vacant); Group B (PUR, GRL, CAN)
This, of course, will change if some teams don't participate or new teams show up. But, assuming these are the teams that show up the U.S. might have to decide between avoiding Cuba or having a bye day during pool play. Cuba is the odds on favorite for this tournament, but a rest day in such a short 5 day tournament might be highly desired as well. Another strategy to consider: If the U.S. were to select Cuba's group, the U.S. would be guaranteed to not face Cuba in a semifinal match. Which would be a good thing, but then that also makes getting to the semifinals a little tougher.
Terminology: I'm not sure how the acronym NORCA or Nor.CA was originally adopted for this event. Basically, it's a shortening of "North American and Caribbean" and this was a competition that actually started under the old Pan American Team Handball Federation (PATHF). Now that PATHF has split up into the North American & Caribbean Handball Confederation (NACHC) and the South and Central American Handball Confederation (SCAHC) I've seen it referred to as the NACHC Championship. If one compares this to other continental handball championships it's a bit non standard in that the EHF calls their championships the European Championships not the EHF Championships. Anyway… I don't care much what we call it, but I say the NACHC nations get together and definitively pick a name.
And, here's a can of worms for you: Google "North America" and see how many different definitions there are. Depending on who you talk to North America can end at the USA-Mexico border, the Mexico-Guatemala border or the Panama-Colombia border.