The Men's PANAM Games competition will start Monday, 30 October and here's a closer look at the U.S. Men's roster and the competition. Here's the roster compiled from previous tournaments and a recent USA Team Handball post.
USA Men's Roster

The PANAM Games allows only 14 athletes on the official roster which is more restrictive than other recent tournaments which allowed as many as 18 athletes and up to as many as 6 alternates which could also be activated and dressed. The PANAM Games does allow for 2 alternates, but there are more restrictions for activating them and significant addtional costs for them to travel. As such, my understanding is that the U.S. has chosen to have only 14 athletes travel to Chile.
With the smaller roster size this meant that the coaching staff likely had to make some tough choices on who to keep and leave off the roster. As I review the roster by position, I'll note some of the athletes that made the 2023 World Championship roster that are missing.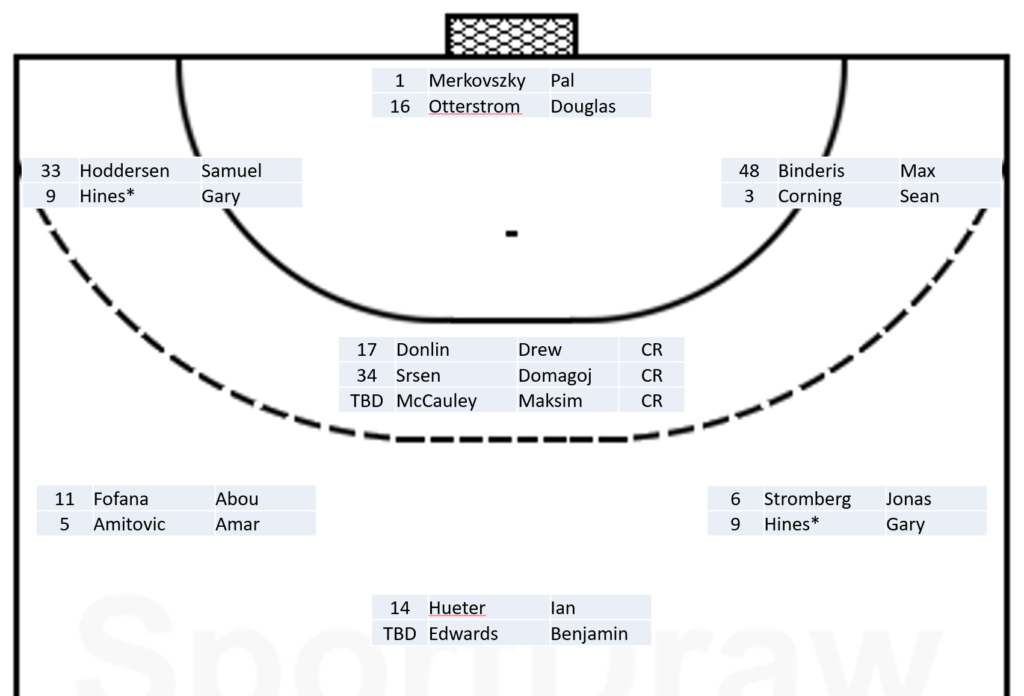 Goalkeeper: Pal Merkovsky who plays in Hungary's top division is the #1 GK and will likely get the bulk of the minutes. Doug Otterstrom will be his backup and this suggests that he has moved ahead of Rene Ingram and Nicolas Robinson as the #2 GK.
Left wing: Sam Hoddersen has been a consistent and reliable performer at left wing. At the 2023 WC he was the 2nd leading scorer for the U.S. with 21 goals on 30 attempts. Gary Hines is also listed as a left wing, but I think he may see more time in the back court. Left off the roster was Nik Zarikos and he was likely left off due to the roster limitations
Left Back: Abou Fofana is the primary big shooter and U.S. success might well rest on him having a good tournament and a higher shooting percentage than his 41% at the WC. Amar Amitovic will also likely see a lot more playing time with the smaller roster
Center Back: As usual, Ian Hueter will be conducting the offense, but with scoring options more limited in the backcourt he may need to look to score more. 17 year old Benjamin Edwards is a recent roster addition and it will be very interesting to see what he can contribute at his first senior men's tournament. Having seen him play this past summer at both the U19 and U21 it's clear his future is very bright, but playing against grown men will be a challenge. Sorely missed will be Alex Chan, who was the U.S. leading scoring at the 2023 World Championships. USA Team Handball had no comment in regard to his non-selection, but Chan communicated with me that he's had some issues with Passport renewal. He's an experienced player who was another real threat to score against top competition. Without that extra option it will be a little tougher for everyone else to score. And, it won't just be the goals we'll be missing as he was also an effective passer that made the players around him better.
Right Back: Joey Stromberg is the only true right back on the roster, and, at times he's shown promise. But, for the most part in recent competition, Coach Hedin has chosen to go with a right hander, either Alex Chan or Gary Hines at this postion. With Chan unavailable, it's a great opportunity for Stromberg to step up. And, regardless we'll also likely see Hines here as well. Perhaps even McCauley as he's played backcourt for the U19 and U21 teams some.
Right Wing: With veteran Ty Reed stepping away from handball, this position will now be filled by Max Binderis and Sean Corning. Both have shown they are capable, but I don't know if there is a clear #1 at this position now
Circle Runner: The U.S. has 2 big men (Drew Donlin and Domagoj Srsen) in the middle available and they will anchor a solid U.S. defence. It would be even more solid with real depth, but both Patrick Hueter and Paul Skorupa will be unavailable due to injury. Donlin will likely be the primary option on offense, but Srsen and Maksim McCauley will also likely see time here.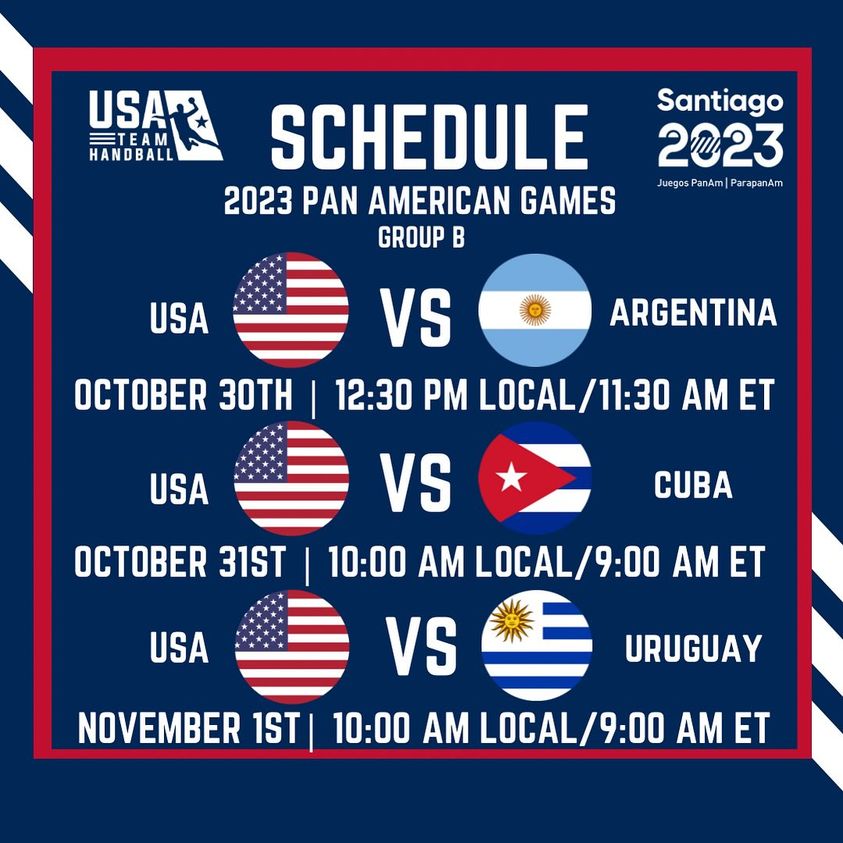 The Opposition and U.S. Outlook
The U.S. is in Group B with Argentina, Cuba and Uruguay. Argentina is the clear favorite to win the group, but they are getting a little bit older and don't seem quite as strong as they have been in the past. Star player, Diego Simonet has also struggled with injuries the past few seasons and has only played limited minutes this season with his club team Montpellier.
In all likelihood it should be a three team battle between the U.S., Cuba and Uruguay for 2nd place and a berth in the semifinals. The USA beat Cuba 32-28 at the 2022 NACHC Championship, but Cuba have improved since then, as demonstrated by their undefeated campaign at the 2023 Central American & Carribean Games. Uruguay had a disappointing 2023 WC campaign where they failed to win a match to finish 32 out of 32 teams. That said, they still have experienced players and won't be an opponent to take lightly.
Something for NACHC fans to cheer for: The NACHC currently only receives 1 WC slot while the SCAHC receives 4 slots. Seems a little out of whack doesn't it? Well, nothing would demonstrate that thought more than USA and Cuba victories over Uruguay (the 4th SCAHC slot team).
US Outlook?: Well, before I realized that Alex Chan would be unavailable I felt pretty good about a semifinal berth. The U.S. had shown it's mettle at the WC beating other 2nd tier nations like Morocco and Belgium. Teams clearly better than Cuba and Uruguay. Why, it even seemed conceivable to think of a surprise upset over a somewhat weakend Argentina.
But, losing cogs (like Chan, P Hueter and Skorupa) in the wheel points to our lack of depth. We can still beat teams like Cuba and Uruguay… but, we're no longer clear favorites to do so. Instead, I see a real dog fight and the U.S. will really need to stay healthy and have some players step it up yet another notch to make the semfinals. And, of course, it's much harder to conceptualize a victory over stronger sides like Argentina or Brazil. But, then again, there's a reason why the games are played on the court. The key is to make the semifinals at which point it will be a knockout tournament where in one match anything can happen.