Note: This is part of an ongoing series, Charting a Way Forward for USA Team Handball (2019 Reboot): Link
Part 1 of my review of U.S. clubs focused on our At-Large Men's club. Part 2 looks at Men's Collegiate Club programs.
Collegiate Clubs: More Americans, Younger Americans, Plus Structural and Marketing Advantages
The initial review of Men's club demographics clearly brings home the strengths of our collegiate clubs.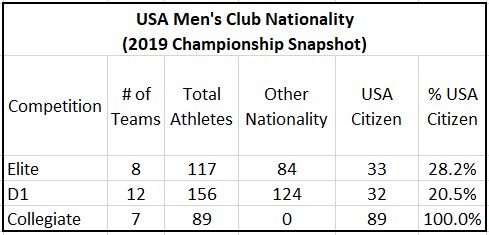 Rarely does a simple tabulation bring home reality so starkly. These clubs are likely 95-100% American and have an average age of 21.2 This is the one layer of our development pyramid that makes sense. Sure, we'd like for there to be even more college programs, but it's a solid start. And, while a European might laugh at my declaration of "younger" players compared to our At-Large Clubs it is indeed substantially younger. Sure, we'd like more players at even younger ages, but as I will discuss in future installments, going younger can be pretty challenging due to the constraints of U.S. sporting structures.
College clubs are also the first strong transfer point for athletes from other sports. This is because there are a limited number of college scholarships available for major sports and many quality athletes won't make the cut. These athletes, in many cases will be looking to continue their athletic careers and team handball presents a unique opportunity.
Colleges also have many structural advantages in terms of starting new clubs. For starters, there's a captive audience of potential athletes all conveniently located in the same place. Most colleges also encourage club activities and gym space for a handball court exists, even if a handball club has to compete against other activities for its use.
Finally, collegiate clubs have built in branding associated with their college. Maybe around 1,000 people in the U.S. have even heard of our At-Large Clubs like NYC and SF Cal Heat. Whereas millions of Americans immediately know what North Carolina Tar Heels and Ohio State Buckeyes means. And, alumni of those institutions are inclined to support clubs from their alma mater even if they don't know a whole lot about a sport like team handball.
Collegiate Club Demographics
While the snapshot of college clubs from last year's national championship provides a top level overview there are several other collegiate clubs in the U.S. Here, again thanks to Bryan Cothorn's database, is an overview of every collegiate club that played at least 1 match last season (2018-19)
Some notes on this compilation
Last season the U.S. had 15 Collegiate Men's that played at least 1 match.  Seven of these 15 clubs fielded more than one team for a total of 22 teams that played at least 1 match. 
The clubs highlighted in Green are discussed below
Upper Appalachian Conference?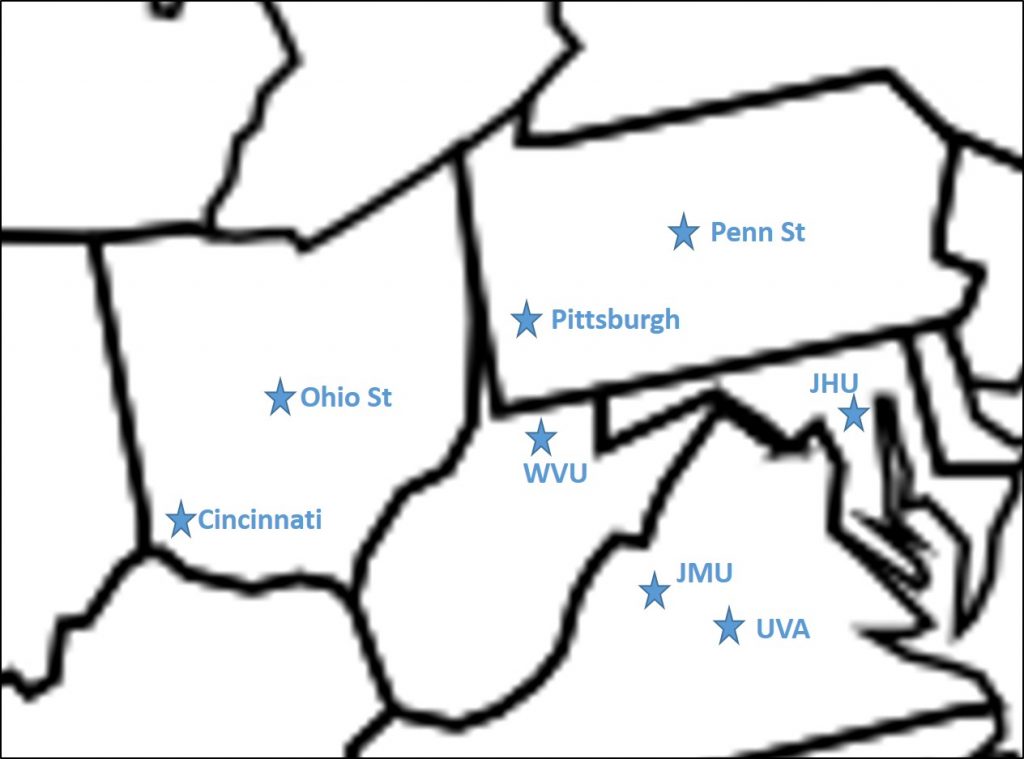 You never know sometimes how things will grow organically (from within/naturally), but for whatever reason a natural grouping of collegiate clubs has sprung up in Ohio, Pennsylvania, West Virginia, Maryland and Virginia.  In fact, over half of the collegiate clubs last season (8 of 15 highlighted in the table in green) are located within those 5 states. These clubs are also relatively new and evenly matched.  The engineer/program manager in me hates to jump right to solutions, but this appears to be a no brainer gift that should be capitalized on in some way.  Not sure what I would call this conference, but the Appalachian Mountains do split the 8 schools. Perhaps the conference could be split into an East Division with Penn St, Johns Hopkins, Virginia and James Madison and a West Division with Cincinnati, Ohio St, West Virginia and Pittsburgh. Such a split would result in no more than a 5 hour drive within each division.
Sustainment: Always an Issue for Clubs where Players Graduate every Year
Long time readers will surely remember seeing this grim map before
It's a very stark reminder of the collegiate clubs of the past. Clubs that surely started with promise, took the court with dreams only to all die an untimely death a few years later. There are multiple reasons as to why clubs fold, but in most cases it can be attributed to a dedicated coach's departure or the graduation of a key cohort of seniors.
The data in the table can't fully predict which clubs will stay and which clubs will go, but the # of games played is a rough indicator. If you can't field a team to play games chances are that your days as a club are numbered. For sure, a willingness to spend the time and money to travel is literally and figuratively where the rubber hits the road. Of course, it's just an indicator. For example, Texas A&M is a pretty solid program and its limited number of matches is directly attributable to being located in a handball desert.
Beyond Existing Clubs?
While there are only around 13 existing clubs dozens of colleges and universities play team handball as an intramural sport. In all likelihood, the handball being played is just a rough facsimile of the real game. Often the games are played with less contact and fouls being called like a basketball game. Which is not too surprising since such games are likely being played by athletes that have never played the game and officiated by refs who haven't been trained. And, being intramural sports probably coached by a student who maybe played the year before.
This is nothing new, but good things can come from such intramural programs. The 1977 Air Force Academy club team went to the U.S. National Championships and spent the first day learning all sorts of new rules that they had been playing wrong and almost still came away with winning the tournament. (It doesn't hurt to have several Div 1 basketball athletes and two future handball Olympians on your roster.)
Colleges with intramural programs are a great place to start. Even if they aren't playing the game properly they are playing it and can be taught. Plus they are motivated and already have equipment (goals and balls). Although, I've heard sometimes alternative sized balls and goals have actually been used instead of the real thing…
College Development: Already being Worked
The IHF has already indicated that they will financially support college development and a Working Group has been established to work college development. According to an August USA Team Handball Newsletter their very clear mission is to: "establish a sustainable approach toward helping colleges and universities establish collegiate team handball clubs." A challenging mission, but a worthwhile one.
Next up: Part 3 will look at U.S. Women's clubs both At-Large and collegiate.