In Part 1, I endorsed the first five "business case" reasons that the IHF listed as rationale for selecting the U.S. to participate in the 2021 IHF Handball World Championships. I won't, however, endorse the 6th listed reason:
From those teams that have registered for the planned qualification event and showed interest in playing the qualification (Canada, Greenland, Puerto Rico, USA), USA are the best-ranked team at the last official competition, namely the 2019 Pan American Games.
Why? Because, while true, it's a tone deaf slap in the face to Greenland handball since Greenland is not allowed to participate in the PANAM Games. And, if you can't compete in a competition it's impossible to get ranked at that competition!
A Primer on National Team Handball Tournaments in the Americas
When it comes to national team competitions in the Americas a lot of folks get confused, and, for good reason as these competitions have similar names and participants. The best way to understand how everything is structured is to know which sport's organization has overall jurisdiction for that competition. Or, to put it another way, what final tournament are the nations trying to qualify for?
For the IHF World Championships the IHF is ultimately responsible and until the Pan American Team Handball Federation (PATHF) was split into two confederations the event that qualified teams for the World Championships was the Pan American Championships. These Championships were held every 2 years and Greenland was able to participate because they are member of the IHF.
For the Olympic Games, the IOC is ultimately responsible and Greenland cannot participate because they are not a member of the IOC. Working with the Pan American Sports Organization (PASO), PATHF decided in 1987 to have the PANAM Games, which is essentially a mini-Olympics for the Americas as the handball qualification event for the Olympics. The PANAM Games are held every four years and Greenland cannot participate because they are not a member of the IOC or PASO.
As to why Greenland isn't a member of the IOC it relates to Greenland's semi-autonomous status as part of Denmark. The IOC currently requires full independence for new memberships. Which, incidentally, is why Puerto Rico competes in the Olympics despite their semi-autonomous state as they were "grandfathered" in as member prior to the change in policy.
Incidentally, since the North/South split of PATHF there has been no indication of any IHF plans to grant both the NACHC and SCAHC an Olympic slot. This status quo regarding Olympic qualification implies that the North and South will continue to share an Olympic slot that will be awarded at the PANAM Games.
The Tale of the Tape (All Time GRL-USA Competition Record)
So, while Greenland and the USA have never met in a PANAM Games competition they've met eight times in Pan American Championship tournaments, once in a North American Championship and once even at the World Championships. Here's the all time match record based on Wikipedia results pages.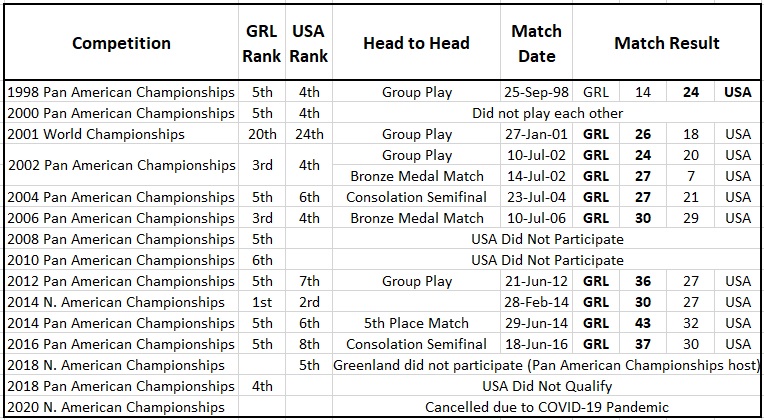 As an American, all I can say is, "Wow, this head to head summary pretty much summarizes the dismal performance of our men's national team in the 21st century. 1-0-9 vs Greenland. A 330,000,000 population vs 55,000. This isn't a rivalry. This is an ass whuppin. Seriously, what is wrong with handball in our country?"
At least that's how it feels emotionally as someone who really, really cares about handball in this country. Putting on my analytical hat, however, none of this should be that surprising. So what if our population is almost 6,000 times larger. That doesn't matter if more Greenlanders than Americans are actually playing handball. And, while our total GDP as a nation is massive, I suspect that Greenland spends more on handball than the U.S. does, from grass roots all the way to national teams.
A Trip Down Memory Lane
Looking at this historical record is quite the trip down memory lane and it really does mirror the decline of handball in the U.S. since the 1996 Olympic Games.  Note, how the sole U.S. victory is the very first match between the two countries in 1998. A ten goal victory with a roster that surely had some holdovers from that Olympic team.  But, as those players got older and nothing was really in place to develop athletes with traditional grass roots or a residency program the balance of power shifted.   In 2001, thanks to Cuba bowing out, the U.S. got a ticket to the World Championship where the U.S. was totally uncompetitive losing by an average of 22 goals, including an 8 goal loss to Greenland.  A year later with a trip to the 2002 World Championships on the line Greenland steam rolled over the U.S. 27-7.  The score at halftime:  11-2.  Two goals in 30 minutes?  To Greenland? When I first heard that result I was astonished.  When I asked an old teammate, "What the hell happened?" I got kind of a shrug and no real explanation.
And, for me personally, it was the beginning of a wakeup call, that the times they were a changin'.  A wakeup call, that was further realized by living 5 years in France and getting a close up view of what we up against on the world stage.  With support from the U.S. Olympic Committee being drastically cut and with no real grass roots structure in place it was the start of some real lean years for USA Team Handball.  Gone were the days when we could recruit some great athletes, train them up with a residency program and go take on the world.  At least that's what was ridiculously obvious to me.  However, it was not so obvious to others and we attempted to recreate our "glory days" with an underfunded residency program that struggled to recruit athletes and couldn't afford to travel to Europe for the competition that was needed to improve.
A Wakeup Call and a Change in Direction
Poor results continued as did the U.S. losing streak to Greenland.  In 2018 came the low water mark.  At a North American Championship, the U.S. finished 5th out of 6 nations and failed to even qualify for the Pan American Championships.  It did, however, finally elicit a wakeup call for USA Team Handball
Coincidence or not, my plea to shift to dual citizens was heeded and a totally revamped roster was put together to qualify for the 2019 PANAM Games.  Overnight the U.S. had a much better team and they qualified with relative ease over Canada winning a 2 match aggregate qualification by 12 goals.  And, having witnessed both matches in person, I would argue that it wasn't even as close as the scores suggested.  The U.S. didn't do as well as I would have liked at the PANAM Games, due in part to some injuries, but the score lines were better and we notched a victory over a Cuban team that's also improved significantly.  The U.S. also performed well at the 2019 North American Emerging Nations Qualifier and the 2019 Emerging Nations Championship.
Is this new U.S. team World class?  No.  Our top prospects are playing in the German 2nd Divisions (Ian and Patrick Hueter) and the French 2nd Division (Abou Fofana).  And, then we have several players (thanks to support from the Forum Club Handball) are playing with top clubs like Spain's Leon (Drew Donlin), Flensburg (Ty Reed, Tristan Morawski), Elverum (Nico Robinson) and Kristianstad (Rene Ingram).  With the exception of Donlin, these athletes are playing with 2nd teams, but also are training some of the time with the first team.  Those are all great training environments and every one of these athletes has improved since their PANAM Games opportunity last year.
They are not going to beat Norway and France, but they should put up a credible fight and we'll see some flashes of real promise.  And, likely some wins in the President's Cup.  Several of these athletes are also in their early 20s and will also likely be representing the U.S. in Los Angeles come 2028.
Better than Greenland?  (Or, Cuba for that Matter?)
Well, first to reiterate with emphasis:
No one.  I repeat no one is happy that no championship could be held to decide a winner on the court.  No one.
That being said, my educated guess if the North American & Caribbean Championship had been held this is the percentage odds as to who would have won.
Cuba: 40%
USA: 33%
Greenland: 25%
Another team 2%
Of course, this is just an educated guess, and we'll never ever know for real, but here's some more rationale.  Cuba and the U.S. played 4 times last year and split the matches 2-2, but I would assess that Cuba are a little deeper in terms of overall talent.
Neither the U.S. nor Cuba have played Greenland recently so it's harder to extrapolate.  One might argue that Greenland's performance at the 2018 Pan American Championships would make them the better team.  After all, they almost knocked off Chile to qualify for the 2019 WC, but those results are a bit tempered by the home crowd atmosphere they had pulling for them.  Further, their team is getting older with their top 3 players, Minik Dahl Hoegh and the Kreutzmann brothers all in their 30s and stepping away from full time handball.  And, there is no depth whatsoever on the Greenland roster.  Doesn't mean they can't overcome these shortcomings, just suggests that it would be a bit tougher for them to do so.
Does it Matter? Shouldn't the IHF Just Look at Recent Results?
But, why just spitball how good the current teams are?  Let's just look at the recent results.  I guess I could go along with that logic if it was written down somewhere that is the process that has to be followed.  But, lacking an established process it becomes a bit of gamesmanship.  Like the gamesmanship of using the PANAM Games as criteria to exclude Greenland.  How far back does one go in order to determine relevant results?  Should one factor in that both Cuba and the U.S. are dramatically different teams now?  Why or Why not?  Again, when one establishes criteria after the fact, one can select criteria that makes their case better.  Lacking such criteria, I would suggest that the business case for the U.S. couple with their recent improvement in performance makes the U.S. the logical, best choice to represent the NACHC.
An Awesome Set of Rivalries Shaping Up
I guess to end on a positive note, this little confederation is shaping up to be quite interesting.  Cuba and the U.S. have already renewed their rivalry and Greenland will be joining them.  I suspect the next GRL-USA match will be a hard fought one.  Canada, Mexico, Puerto Rico and the Dominican Republic are surely thinking don't forget about us.  Yes, one can really look forward to a real championship played on the court.  The sooner, the better.